Author and Social Media Ninja
Supporter
Joined

Feb 1, 2022
Messages

94
Location
I had gotten many short works published in various competitive online e-zines the past two decades; but finally, last Fall, I published my debut novel. It's an epic occult urban fantasy called The Be(k)nighted.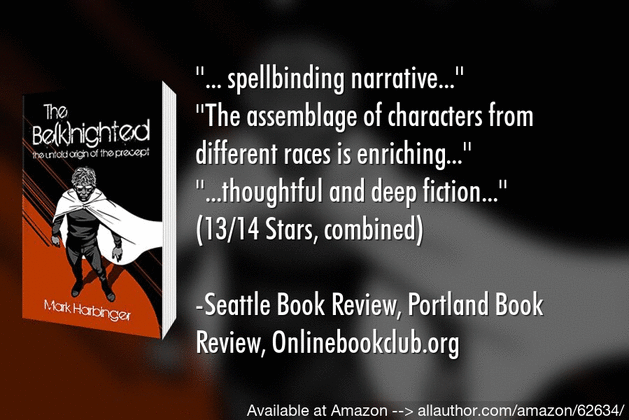 As you can see, received good reviews/comments from all the pro reviewers. I especially like this author testimonial:
"The Be(k)nighted is a tightly-woven web of intrigue and adventure,
melding genres through deft storytelling."
—Tim Marquitz, author of the Demon Squad Series. ​
PROMO BLURB
Marshall
. The voices of his childhood schizophrenia had always haunted him. But, his powers weren't from those; they were from the other voices— the real ones. Now, the government, his surrogate family of rogue former superheros, and warring Demi-Gods all demand Marshall's help.
Palla.
When the irreverent CEO of the Blue Rooks Church was asked to take Marshall under her wing, she discovered Marshall and the Church have a history that is dark and complicated. In order to save both, she is faced with moving beyond doubt, and embracing a cosmic destiny.
End Day.
Can Marshall find his own voice in time?
CREATOR SHOP TALK FOR CHRONS
Several things make this work unlike other works you'll come across. First is the use of an neurodivergent protagonist. Marshall Lastpost (the protag) has early-onset schizophrenia. More importantly, his illness is accurately portrayed. I was interviewed on the topic of 'Mental-Health Tropes in Writing' in a rapid-fire interview
here
.
Second, in order to overcome the 'unreliable narrator' problem with having this MC, I had several viewpoint characters in shifting third-person POV. But, since many of the characters are precognitive, almost one-half the chapters are in Omniscient. Further, when I did flashbacks that Marshall was remembering, I used 2nd-person POV (I found that was the best way put the reader in the mind of someone who hears voices). This all hearkens back to a time when people weren't so uptight about using only first-person. My vibe is
post-retro
.
Third, the subject matter is occult fantasy, and I tell it in a realistic fashion (some folks accuse my long prologue of being a horror story in its own right—it is a complete short work); but it also portrays a world that has become aware of costumed heroes. So, I made the entire thing a bit of an homage to the superhero comics that I love. Two of the characters are retired public domain superheroes, for example.
Finally, the cast of characters is truly diverse. One of those public domain heroes was the first black super-heroine, for example. And, of the 3 MCs and the other 5 on the 'team,' half are POC, half are women and several different cultural backgrounds are represented.
LABOR OF LOVE
I could not have had a better experience writing the novel. I hope many people decide to add it to their personal libraries and choose to discuss it with me, afterwards. Available on Amazon or wide, although the 'second printing' will take a while to propagate to the wide distro channels.
And,
yes
, I am writing a sequel. But this is a fully resolved story.
Best Regards,
_Mark