Fantasist & Futurist
Staff member
Supporter
Joined

Nov 23, 2002
Messages

22,636
Location
It's been a while since I posted a Space News roundup!
A number of major stories have already been posted to the
Science & Nature
section of the forums, not least
New Horizons Pictures of Ultima Thule
,
China lands on the dark side of the Moon
, and
Repeated radio bursts from Space
.
However, here are a few more stories you may have missed over the past few weeks:
Asteroids
The image above is near-Earth asteroid SD220, which came close enough over December to be imaged with radar (see image above):
Holiday asteroid imaged with NASA radar
.
Meanwhile, data from NASA's Dawn probe shows that the asteroid Ceres has a surface covered with carbon-rich organic molecules:
Team finds evidence for carbon-rich surface on Ceres
Planets
Researchers at Durham University say that computer simulations suggest a rocky planet bigger than Earth hit Uranaus, around 3-4 billion years ago, causing it's rotation to flip around 90 degrees:
A big space crash likely made Uranus lopsided
Intriguing, they also say:
It's also possible that the big object that knocked over Uranus is still lurking in the solar system too far for us to see, said Green. It would explain some of the orbits of the planet and fit with a theory that a missing planet X is circling the sun well beyond Pluto, he said.
We know Venus has weather - now observations from the Japanese spacecraft Akatsuki seem to infer jet streams driving the cloud formations:
Giant pattern discovered in the clouds of planet Venus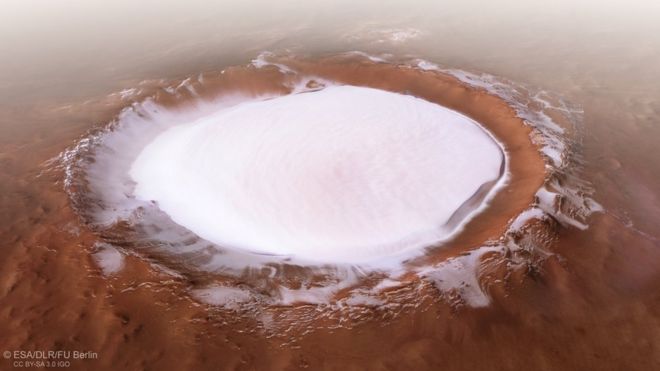 Mars has also been in the news, with ice imaged at its north pole (see pic above):
Pictures reveal 'winter wonderland' on Mars
. Curiously, though, scientists are struggling to detect methane at the surface, which some speculate means it might follow a biological cycle in line with the seasons:
Remember the discovery of methane in the martian atmosphere? Now scientists can't find any evidence of it, at all
Speaking of seasons, Saturn apparently turns a hazy shade of blue in winter:
Rings make Saturn shadier, bluer and less hazy in winter
. Less pleasantly, Saturn's rings seem to be disappearing at a faster rate than initially thought, with them expected to now disappear within 300 million years:
NASA research reveals Saturn is losing its rings at 'worst-case-scenario' rate
. More mysteriously, analysis of water ice in Saturn's system shows it's isotope ratios are very similar to that on Earth - with the exception of the moon Phoebe, which has already been suggested was a captured asteroid:
The water in Saturn's rings and satellites is like that on Earth except for moon Phoebe, which is out of this world
Exoplanets
One of the more exciting stories over December was the detection not just of a possible rogue planet between the stars, but of aurora activity detected upon one:
An aurora glows over a (possible) rogue planet
Brown dwarfs are one of the more enigmatic bodies in the universe - too big to be a planet, too small to be a star. And they keep turning up in unexpected places, not least HATS-70b, which has been the first detected around a tiny A-class star:
Astronomers detect low-mass brown dwarf around A-type main-sequence star
Exoplanets continue to surprise us with their variety - the latest of which is a planet whose mass doesn't fit neatly into current models of planet formation:
Nature's magnifying glass reveals unexpected intermediate mass exoplanets
Additionally, we keep seeing more exotic features:
In fact, more planets forming around young stars than expected:
Unknown treasure trove of planets found hiding in dust
.
It's not all good news, though. We now know that red dwarf stars - the most numerous in our galaxy - may be one of the most common places to find planets. Unfortunately, current simulations suggest we're unlikely to find conditions favourable to life as we know it:
Young planets orbiting red dwarfs may lack ingredients for life
.
Even still, planetary formation seems to be happening at a faster rate than expected:
The epoch of planet formation, times twenty
Meanwhile, some odd orbital angles may be due to kinks in the prot-planetary disk:
Early protostar already has a warped disk
Galaxies
It's not just proto-planetary disks that can be warped - apparently, our own galaxy shows strange corrugated features:
The corrugated galaxy: Milky Way may be much larger than previously estimated
Continued observations have also led to the discovery of a new dwarf galaxy orbiting the Milky Way:
Enormous dwarf satellite galaxy of Milky Way discovered
as well as
Three new open clusters discovered in the Milky Way
. In fact,
Nearly a third of all galaxy clusters may have been previously unnoticed
.
While everything is looking busier around many galaxies, not least with
A cluster of clusters: The globulars of Coma
, some galaxies are surprisingly lonely:
The lonely giant: Milky Way-sized galaxy lacking galactic neighbors
Everything remains hectic in our galaxy, with the striking news - literally so - that the Large Magellenic Cloud might be due to collide with us in 2 billion years, before the arrival of Andromeda:
Catastrophic galactic collision could send Solar System flying into space
Stars
A few especially interesting stories about stars, not least that
Astronomers discover first direct evidence of white dwarf stars solidifying into crystals
Meanwhile, modelling appears to account for the development of two-thirds of observed binary stars:
How do stellar binaries form?
. Which begs the question of what process was behind the other third?
Miscellaneous