Fantasist & Futurist
Staff member
Supporter
Joined

Nov 23, 2002
Messages

23,898
Location
Tired of always seeing the same recommendations for the same books and authors?

Then consider trying out some of these exciting new voices to begin your reading with in 2017:
Abendau's Legacy (Abendau Trilogy) by Jo Zebedee
GENRE: Space Opera
Being chosen always hurts.
Kare faces a choice - he can inherit his cruel mother's Empire or accept his father's birthright and stand against her, knowing he will incur her wrath. Once made, that choice will threaten everything he holds dear - his friends and loved ones, his family, even his sanity.
What customers say:
'A hard hitting novel that pulls no punches' - Alex Serrano
'Characters so real I felt as though I could reach out and touch them' - Mrs Moppit
'In tears early on, gripped completely, and had to read in one sitting' - StormyF
'This one turns dark, and that's splendid. Good science fiction with characters you care about' - James Kane.
Available on: Amazon UK | Amazon.com
------------------------------
Unfathomed by Ralph Kern
GENRE: Military SF/Thriller
The M/S Atlantica, one of the most advanced cruise ships in the world, is lost.
Land has disappeared. Fuel, food and hope begin to dwindle.
After months recuperating in hospital, US Marine Jack Cohen hoped a Caribbean cruise would help him recover from the horrific injuries he sustained fighting in the Middle East. Instead, when the ship is attacked, he is once again thrust into battle to protect Atlantica against the ruthless enemy hunting her, and the insidious threat already aboard.
On these mysterious and uncharted seas, where even the compass shows the sun rising to the west, Atlantica's salvation may lie with a Navy warship which is as lost as they are. Together, they must pool their resources and use every means available to defend themselves while discovering what has happened to them.
And the rest of the world.
Unfathomed, a military science fiction thriller which will appeal to anyone who enjoyed Lost, BSG or The Last Ship.
Available on: Amazon UK | Amazon.com
------------------------------
The Goddess Project by Bryan Wigmore
GENRE: Alternate World/Fantasy
'Ancient terror, modern error, future era.' Otter shook himself. 'Mean much to you?'
Two years after being washed up on a remote beach, freedivers Orc and Cass still have no idea who they are or where they came from. Worst of all, they feel like lovers but look like brother and sister, and must repress their instincts for fear of committing a terrible mistake.
Now at last they've tracked down a psychic artefact powerful enough to restore their memories. But others also seek its forbidden magic. To reach it, deep within a sunken ruin, they must flirt with a ruthless occult conspiracy, one intent on summoning an ancient goddess to destroy the dreadnoughts of the Empyreal fleet.
The depths of the sea, of the past, of the world's collective mind: down there are truths, but also madness and despair. And a power that will plunge the world back to a new dark age, if it can't be stopped.
Available on: Amazon UK | Amazon.com
------------------------------
Kingdom Asunder by Thaddeus White
GENRE: Epic Fantasy
Blurb: From the author of Bane of Souls, and Journey to Altmortis, comes epic fantasy Kingdom Asunder:
What crime is more unforgivable than treason?
Princess Karena is all that stands between the House of Penmere and ruin. The King, her brother, was gravely wounded in a failed assassination attempt, and once-loyal followers are flocking to the treacherous Usurper's golden embrace.
But Karena knows the surest defence is attack, and will stop at nothing to destroy any rival to her brother... or herself.
Against her, the Usurper musters a vast army to crush Penmere once and for all, but in a war of treachery those closest to you can be the greatest threat.
Available on: Amazon UK | Amazon.com
------------------------------
Explorations: First Contact (Short story collection)
GENRE: Science Fiction
An exciting collection of First Contact science fiction stories, each set in the same universe. Join many of today's best SF authors as they tell you stories of explorations.
The Sphere ship appeared suddenly, damaged and dying. After making contact, Earth learned they weren't alone in the universe. The Sphere gave them knowledge of space travel, and co-ordinates to other races spread across the expanse. It asked them to continue its mission of exploration and contact, but also left them with a stark warning: Stay away from the Star.
Over the next twenty years, the United Earth Foundation formed, and their ships were built, their displacement drives giving them the sphere shape when engaged.
Their Mission: First Contact
Available on: Amazon UK | Amazon.com
------------------------------
Whisper my Name by Martin M Clark
GENRE: Supernatural/Thriller
HanaMed Biotech have a new drug under development; one that allows the transfer of life-energy from one individual to another.
Or, to put it another way, vampirism in a bottle.
The rich and dying will do everything they can to see this drug come to market.
The Catholic Church will do anything it can to see it fail.
John Balfour, a HanaMed technician, becomes the custodian of research that promises life eternal – and everlasting damnation.
His family, employer and Holy Mother Church all offer inducement and threats in equal measure. In fact the only thing not on the table is the allure of immortality itself.
Because John Balfour is already a vampire.
Available on: Amazon UK | Amazon.com
------------------------------
This Sacred Isle by Steven Smith
GENRE: Epic Fantasy
Britain AD 593 - Roman rule has long since ended. After years of chaos, Anglo-Saxon kingdoms now dominate most of the island, with the native Britons driven out or enslaved in their own lands.
But rumours whisper that Merlin the Sorcerer has returned to unite the Britons and defeat their hated enemy...
Meanwhile, fourteen-year-old Morcar daydreams of battles and heroic deeds.
However, when his village is attacked, Morcar is forced to venture into the wild - and there he must confront the danger that threatens to destroy his people.
Available on: Amazon UK | Amazon.com
------------------------------
The Fourth Reich by Gary Compton
GENRE: Thriller/Science Fiction
September 1st 1939 – Germany invades Poland, thus triggering the Second World War as well as laying the foundations of German leader Adolf Hitler's Third Reich, which was intended to last for a thousand years.
April 30th, 1945 – Adolph Hitler allegedly commits suicide in the Führerbunker as Allied Forces close in, Hitler's dreams shattered and Berlin in burning ruins around him.
Early 2010 – A man with CIA connections is found brutally murdered in his apartment. Global financial systems have collapsed, plunging the world into recession. The Icelandic volcano Eyjafjallajökull erupts, closing European airspace but was it natural or induced? Air Force One, carrying the US President, has its operating system hacked and the plane is controlled by unknown enemies. Threats are made. Prominent figures and leaders from the political, industrial, and religious circles across the globe are systematically killed within three frenzied days of murder. These seemingly unconnected events throw the whole world into turmoil.
Freddy Bartlett, a police detective at SOCA, is given the task of solving the murder, but it turns out not to be as simple as expected. As the clues and events pile, the conclusion is drawn that a Hitler bloodline exists and everything is connected by a vast web of conspiracy, tracing itself back to World War II; a time the world would rather forget. Truths are uncovered which threaten to shake the very foundations of the modern global village, as a long-hidden secret society from the 30's harnesses dark occult forces and unleashes Hell on Earth for one purpose and one purpose alone: to institute the Fourth Reich.
Available on: Amazon UK | Amazon.com
------------------------------
A Family at War by Stewart Hotston
GENRE: Science Fiction/Thriller
Helena is one of the Oligarchs, genetically-enhanced, centuries old families who rule the world. As a new world war begins, she is ordered to find a boy who could save the human race from genocide.
Yet all is not as it seems; Helena finds enemies on all sides, intent on bringing about the war with all its horrific consequences.
To make matters worse, Helena's own integral AI challenges both her motives and her identity. Yet she has no choice but to accept its treacherous aid if she is to have any hope of surviving those
who want her dead.
Available on: Amazon UK | Amazon.com
------------------------------
We are Legion (We are Bob) by Dennis E Taylor
GENRE: Science Fiction
Bob Johansson has just sold his software company and is looking forward to a life of leisure. There are places to go, books to read, and movies to watch. So it's a little unfair when he gets himself killed crossing the street.
Bob wakes up a century later to find that corpsicles have been declared to be without rights, and he is now the property of the state. He has been uploaded into computer hardware and is slated to be the controlling AI in an interstellar probe looking for habitable planets. The stakes are high: no less than the first claim to entire worlds. If he declines the honor, he'll be switched off, and they'll try again with someone else. If he accepts, he becomes a prime target. There are at least three other countries trying to get their own probes launched first, and they play dirty.
The safest place for Bob is in space, heading away from Earth at top speed. Or so he thinks. Because the universe is full of nasties, and trespassers make them mad - very mad.
Available on: Amazon UK | Amazon.com
------------------------------
Liberator by Nick Bailey & Darren Bullock
GENRE: Military SF/Thriller
Colonel JJ Tristan, last officer of the Liberators, is trying to keep the embers of the once great military corporation burning, but passion and the dreams of a glorious past don't pay the bills.
Everything changes when Orlanda Nixon, a former unit member, calls for his help.
Finally, he has a reason to reform the Liberators, but after eight years, will he be able to gather enough of them together to rescue one of their own? JJ has his doubts.
Just getting their old warship back into space could be a problem.
The Liberators never left anyone behind, and JJ isn't about to let that happen now…
Available on: Amazon UK | Amazon.com
------------------------------
The Heir to the North by Steven Poore
GENRE: Epic Fantasy
"Caenthell will stay buried, and the North will not rise again until I freely offer my sword to a true descendant of the High Kings—or until one takes it from my dying hands!"
With this curse, the Warlock Malessar destroyed Caenthell. The bloodline of the High Kings disappeared and the kingdom faded into dark legend until even stories of the deed lost their power. But now there is an Heir to the North.
Cassia hopes to make her reputation as a storyteller by witnessing a hardened soldier and a heroic princeling defeat Malessar and his foul curse. But neither of her companions are exactly as they appear, and the truth lies deep within stories that have been buried for centuries.
As Cassia learns secrets both soldier and warlock have kept hidden since the fall of Caenthell, she discovers she can no longer merely bear witness. Cassia must become part of the story; she must choose a side and join the battle.
The North will rise again.
Available on: Amazon UK | Amazon.com
------------------------------
Conviction's Pain by Dave de Burgh
GENRE: Epic Fantasy
Avidar and its people are reeling in the aftermath of a deadly attack.
Alun Dronald, now Lord General of Avidar's armies, must contend with a murder investigation, political games, and growing religious fervour, while Del'Ahrid, seemingly the most powerful man in the kingdom, plans his next move.
Elsewhere, Brice Serholm serves an enigmatic, powerful being with direct ties to the growing conflict and its ancient roots, while Khyber, the only free Elvayn, makes a discovery which could put an end to millennia of war and strife.
The Mahaelian Chronicle continues.
And the true enemy will finally be revealed…
Available on: Amazon UK | Amazon.com
------------------------------
The Beguiler by Suzanne Jackson
GENRE: Romantic Fantasy
Rebecca Vasteer is fated for the gallows — or else to be secretly sold as part of an illegal trade selling witches to wealthy families.
Instead she is spirited away by Nicholas Jarrett, who takes her to his estate deep in the countryside. There he teaches her a form of magic more powerful, less easy to detect. But is Rebecca his guest as Nicholas suggests, or is she his prisoner?
Then Rebecca discovers an unexpected talent for beguiling, the most dangerous ... and seductive ... magic of all.
Available on: Amazon UK | Amazon.com
------------------------------
Uncommon Purpose by PJ Strebor
GENRE: Military SF
Following the bloody war between the Athenian Republic and the Pruessen Empire, an uneasy peace has settled over the region of space known as The Tunguska Fault.
The Telford family's independent trading vessel, the Belinda is captured by Pruessen slavers and the crew forced into a life of brutal servitude. Their desperate bid for freedom succeeds but a tragic price is paid.
Years pass and Nathan Telford, fighting the nightmares of his past and yearning for revenge, joins the Athenian Navy. His first posting is aboard the warship Truculent, patrolling the northern quarantine zone beyond which lurks the Empire.
Answering a distress call from a beleaguered freighter, the routine mission becomes a desperate fight for survival. The Pruessans are once again testing the defenses of the Republic and this time they have technology far in advance of the last war.
It is left to Nathan, three untried middies and a disgruntled petty officer to try and avert a looming disaster.
With their high tech weapons rendered useless and facing overwhelming odds, Nathan risks everything on a brave, hastily conceived gamble.
Available on: Amazon UK | Amazon.com
------------------------------
The Darfur 3 Saga by Stephen Alexander
GENRE: Superhero/Comedy
A schism between 2 great superheroes on the battlefield of Tora Bora leads to superhumans fighting in the wars over Darfur & South Sudan.
Now it is the year 2012, and the young heroes of that war face their greatest challenge yet: going to America for hero training.
Are they ready for America?
Is America ready for them?
Will they become the heroes America and Darfur need them to be?
Available on: Amazon UK | Amazon.com
------------------------------
Darganau: Autobiography of a Dragon by Cathbad Maponus
GENRE:
Chronicled on the pages within this tome is the first era in the life of the most notorious Dragon in all the lands.
Born as his mother was slain, rescued and raised by an elven mage. After discovering he was saved only for personal revenge, his disillusionment results in his first acts of savagery.
Now out in the world, relatively on his own, Darganau begins to experience the true world, and all its deceits and yes - even its wonders.
Spurred on by a death-dream, the Mightiest of Dragons seeks out the lair his vision showed him - and from where he shall begin to show the world who is Emperor of All!
Available on: Amazon UK | Amazon.com
------------------------------
Origin Stories by David Marshall
GENRE: Superhero/Comedy
Jennifer Creek is a very, very normal half-Japanese, half-Australian seventeen-year-old girl, who knows it's not easy being an unlicensed, teenage super hero.
Her first date with Allan was date-crashed by a super villain who wanted to fry the heart of the boy who broke hers. And a mad scientist tried to give the whole world a zombie apocalypse for Christmas. And then her little brother Max turned into a ghost-in-a-time-machine.
And her best friend's father is Doctor Apocalypse. And he's about to drop an asteroid on Paris.
But the hardest part of being a teenage super hero is lying to Allan about her secret identity.
Until Jenny's secret identity is revealed to the officially licensed super heroes.
Then the hardest part of being a teenage super hero is the way they enforce the licensing rules by dragon.
Available on: Amazon UK | Amazon.com
------------------------------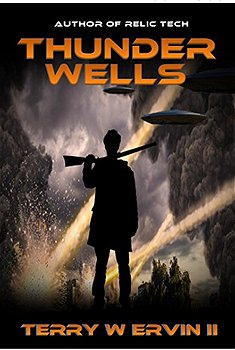 Thunder Wells by Terry W Ervin II
GENRE: Post-apocalyptic thriller
No one ever said surviving an alien invasion would be easy.
Jack Fairbanks made it through the initial wave of attacks, but now the Mawks have seeded the Earth with dozers and crawlers, tracking beasts that crave human flesh and are bent on hunting the remnants of humankind to extinction.
Joined by Lucia, a hardened urban survivor, Jack finds himself caught up in a secret plan to turn the course of the invasion. Can a college sophomore and a ragtag force of soldiers survive when the Mawks descend from orbit and begin their final assault?
Praise for Thunder Wells
"Ervin's got another winner with Thunder Wells. I love seeing the effects of an apocalyptic alien invasion through the eyes of ordinary people. Jack and Lucia are fantastic! As soon as I finished, I wanted to start over and read it all again because it's just that awesome." Angie Lofhouse, author of The Glory of the Stars
Available on: Amazon UK | Amazon.com
------------------------------
Exile (The Nandor Tales Book 1) by Martin Owton
GENRE: Epic Fantasy
'The Exile of Darien' is a fast-moving tightly-plotted fantasy adventure story with a strong thread of romance
Aron of Darien, raised in exile after his homeland is conquered by a treacherous warlord, makes his way in the world on the strength of his wits and skill with a sword. Both are sorely tested when he is impressed into the service of the Earl of Nandor to rescue his heir from captivity in the fortress of Sarazan. The rescue goes awry. Aron and his companions are betrayed and must flee for their lives. Pursued by steel and magic, they find new friends and old enemies on the road that leads, after many turns, to the city of the High King. There Aron must face his father's murderer before risking everything in a fight to the death with the deadliest swordsman in the kingdom.
Available on: Amazon UK | Amazon.com
------------------------------
Demonyka by Mark Huntley-James
GENRE: Supernatural Thriller
"Everyone has their demons, but I buy mine wholesale…"
Paul Moore, shopkeeper, Master of the Dark Arts and demonic broker, has just met the hottest witch who ever tried to kill him. A date is surely out of the question - she serves the demons of the Babylonian Triad, and no-one defies them... almost no one.
Paul thought he was the best, until the Babylonian Triad launched a turf war. Rival demons, competing traders, an explosive spice and ruthless church factions... Paul only wants to keep his home town safe and get the girl. He knows that being a Master of the Dark Arts involves sacrifice, but really doesn't want to be the one dragged to the altar.
Demonyka is a fight through life, death, demons and trying to survive a first date. It's not the end of the world, just the start of a new corner of hell.
Available on: Amazon UK | Amazon.com
Last edited: