Fantasist & Futurist
Staff member
Supporter
Joined

Nov 23, 2002
Messages

25,561
Location
What a riveting sounding title! But I'm a complete Romano-phile, so I'll cover anything on the topic.
Also in preparation for the History board that I'll be creating soon.
Anyway, this article refers to how the Romans created holes and hurdles in their aquaducts to help reduce turbulence and keep a smooth flow of water.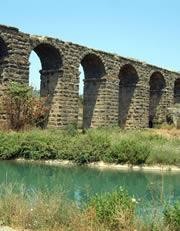 Ancient aqueduct at Aspendos was a hydraulic masterpiece.
www.nature.com
Last edited: